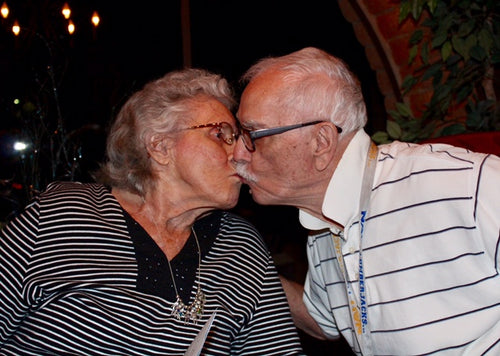 I was feeling a bit nostalgic this morning.  Thinking of love and how important it is. We just had Valentines Day and that always makes love BIGGER in my thoughts.  I am blessed to have had both of my parents together my whole life.  They were not the most touchy feely with each other but they did love one another and I am grateful to have had that growing up, 70 years they were together.  
I love doing the up close and personal single animal.  I painted many of those early in my career.  They are beautiful and impactful by themselves.  But then I look at this pic of my mom and dad and remember how much I love LOVE.  I love the connection and what it means.  I feel we are all on this planet to connect and give love, to help one another and add to each others lives.  If you look at my more recent paintings they will invariably have more than one animal in them.  It's fun to create a connection between animals.  To share the action of love in images for a living is amazing.  To show someone the expression of love in a painting feeds my soul.  It is good for us, helps inspire hopefully.  Deep love of many years is a comfort and I want that for everyone.  I'm sending out blessings and love to all.  
So just know that LOVE is very intentional with me.  It is the foundation of all my paintings and I love sharing it.  It is as nourishing for me as it is for you.    I hope you feel the love, I hope it lifts you up and is a warm blanket on a cold night.