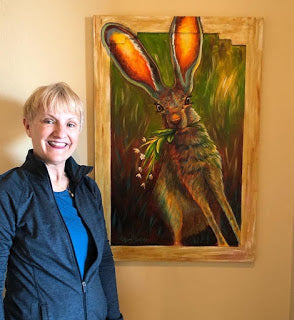 When everything just falls in place perfectly you know it's the divine working through us… This lovely lady said she never goes to the 4th Ave. festival in Tucson.  She said she hasn't bought anything there in years.
She was there before it really opened, luckily I got there early too.  When I told her the story of this rabbit she fell in love. It was painted on the day my nephew was suppose to be born. It's called The Divine Within Us. It celebrates that we are all divine spirits living in our human bodies and literally symbolizes the little divine baby inside my nieces belly. I told her I sent this rabbit as a guide to help the baby in it's transition. The baby came out just great FYI! It was really beautiful colors and was on a reclaimed cabinet door a la Meg Harper style.  I love when life works like this - she loved everything about it.  It's like I did an animal commission for her of this colorful, fun rabbit and didn't even know it.  She sent me this pic of it on her wall at home.
Blessings my friend!